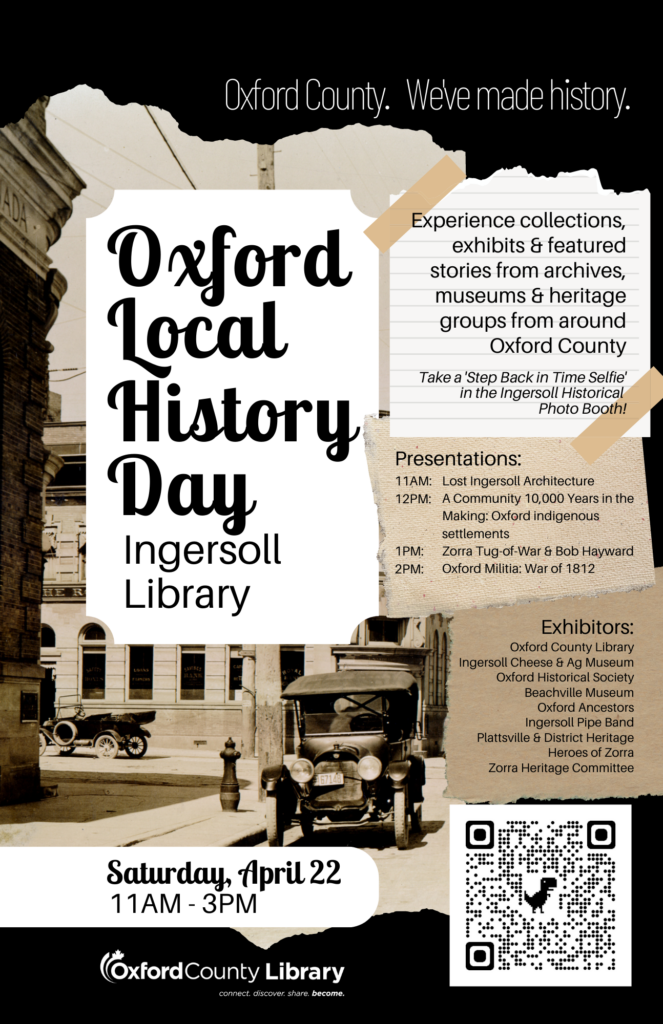 Hello Everyone,
This guest post is provided by Oxford County Library:
Oxford County Library is proud to host the 3rd annual Oxford Local History Day!
Join us at Ingersoll Library on Saturday, April 22nd from 11AM – 3PM
Discover engaging presentations that will bring to light the story of Oxford.
Visitors to Oxford Local History Day will experience collections, exhibits & featured stories from archives, museums & heritage groups from around Oxford County.
Experience an Exhibit with History Experts:
Oxford County Library will feature: The Stone Houses of Zorra project – delve into the stories behind rural edifices of Oxford.
Ingersoll Cheese & Agricultural Museum, Oxford Historical Society, Beachville Museum, Oxford Ancestors, Ingersoll Pipe Band, Heroes of Zorra, Plattsville & District Heritage, Zorra Heritage Committee, Tavistock & District Historical Society
Snap a 'Step Back in Time Selfie' in the Ingersoll Historical Photo Booth.
Grab a prop, smile & transport yourself to the streets of 1900s Ingersoll, courtesy of our green screen photo booth. Bring the family!
Take in a Presentation:
11AM: The Lost Architecture of Ingersoll:
Join Ingersoll Museum curator, Scott Gillies, as he explores the buildings which once graced our neighborhoods and are now lost to the mists of time!

NOON: A Community 10,000 Years in the Making:
Join UWO Associate History Professor, Cody Groat as he delves into: "The lands that we know as Oxford County have been occupied for over 10,000 years. This presentation will give a brief history of Indigenous settlement to the present day, as well as cultural change over time."

1PM: Heroes Past but Always Present:
130 years after five Zorra farmers won the Tug-of-War World Championship at the Chicago World Fair, the small community of Embro still remembers them. This is the story of Zorra's "Men of Might that Feared the Lord". Presented by the Zorra Heritage Committee

1:30PM: Bob Hayward: Farm to Fame:
Zorra Township native Bob Hayward, became a Canadian hero and international celebrity by driving the hydroplane, Miss Supertest III, to the pinnacle of powerboat racing. Presented by the Zorra Heritage Committee

2PM: The Oxford Militia in the War of 1812:
Join local historian, Bob Rennie, as he explores how the citizens of Oxford County had many significant decisions to make during the War of 1812 & the profound impact it had on their lives.
For more event information visit Oxford County Library at Oxford Local History Day 2023
or call 519 485-2505.
Oxford County. We've made history!