Please join us for our first meeting for the new year. Tonight we will be voting in our 2020 board. Nominations for the Executive Board will be accepted until Sunday, January 26, 2020.
The following positions are available:
President

Vice President

Secretary

Treasurer/Research

Membership

Archives/Architecture

Communications & Newsletter Editor

Board Member(s) at Large, maximum of 2
Membership Fees are due for the 2020 year, our membership year runs from January to December. Fees are $25/individual & $30/family. Payment may be made by cash or cheque. Cheques made payable to Oxford Historical Society.
If paying by mail : PO Box 20091 Woodstock, ON N4S 8X8
Presenting tonight will be Scott Gillies, Curator of the Ingersoll Cheese & Agricultural Museum, speaking on the History of Cheese Making in Oxford County.
This meeting will take place at the Woodstock Museum, NHS starting at 6:45pm. This is a free event and all are welcome to attend.
Sunday, March 1, 2020: Woodstock Rec & Leisure Fair
Please visit our booth at this year's Rec & Leisure Fair from 2-4:30pm at Cowan Park.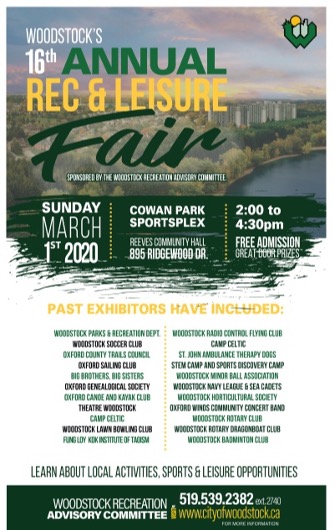 Due to the COVId-19 Virus all events are cancelled until further notice.
Wednesday April 29, 2020: Event cancelled until further notice

Oxford County Archives will present their Memories From the Vault program. This is an interactive event in which Oxford County shares aspects of their archival collection (photos, newspapers articles, scrapbooks, artifacts etc.) with the participants, who in turn share some of their memories with the Archives. Pictured below is a class photo from Harrington Public School, class of 1965-1966.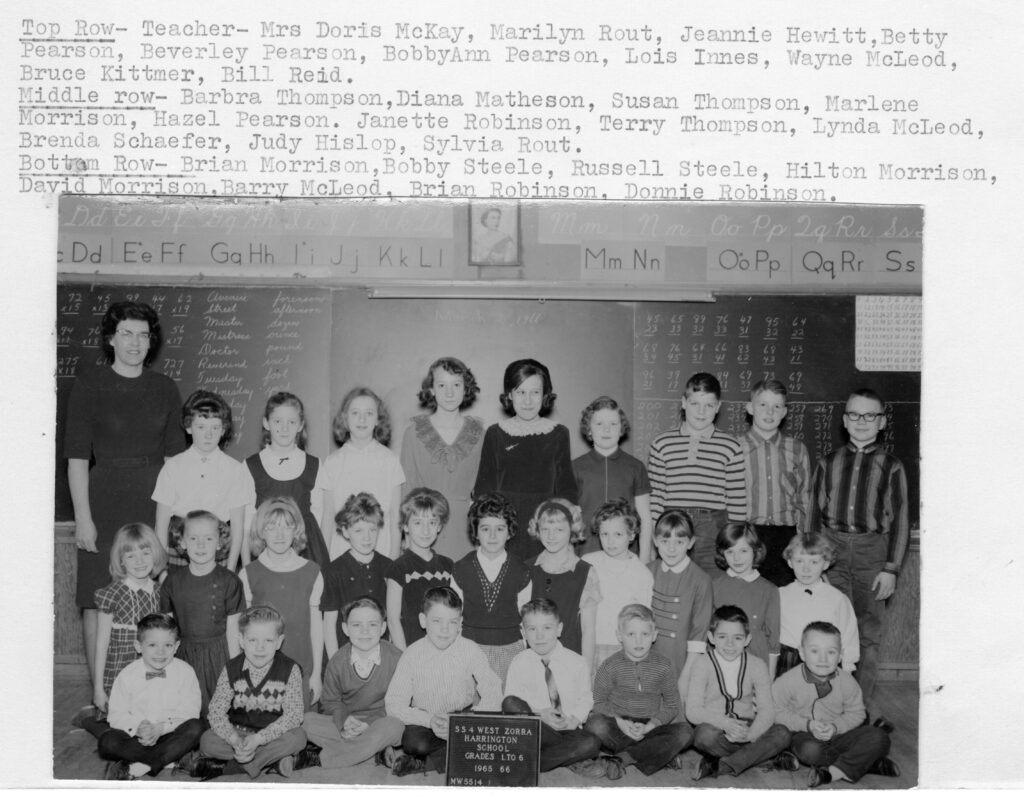 A great way for both organizations to learn more about the history of Oxford County!
Wednesday, May 27, 2020: Event cancelled until further notice

Special Presentation with the Woodstock Public Library, featuring Dennis Thiessen discussing Tip O'Neill.
Dennis Thiessen, Tip O'Neill and the St. Louis Browns of 1887
James "Tip" O'Neill was a Canadian-born baseball player who, in the 1880s, was the leading slugger for the St. Louis Browns, the champions of the American Association for four years in a row (1885–88) and the world champions in 1886. In 1887, Tip O'Neill won the Association batting championship with a .492 average—the highest ever for a single season in the Major Leagues.
O'Neill was part of the first class inducted into the Canadian Baseball Hall of Fame in 1983. In honour of Tip's extraordinary career, the Canadian Baseball Hall of Fame presents the James "Tip" O'Neill Award "annually to the Canadian player judged to have excelled in individual achievement and team contribution while adhering to baseball ideals." O'Neill was also inducted into Canada's Sports Hall of Fame in 1994.
The book concentrates on Tip O'Neill's record-breaking season of 1887. It recounts his numerous multi-hit games, streaks and long hits, as well as his two cycles and triple crown. In addition, the book situates O'Neill's story within the wider portrayal of the St. Louis Browns, a team led by their manager, Charles Comiskey, who would do "anything to win." It also provides a biographical snapshot of O'Neill's life and career in his early days in Woodstock, Ontario (1867–1882) and during his years in Montreal after he retired from major league baseball (1893–1915). In short, the book is a saga of a Canadian baseball star whose legacy is much deserved but not yet fully appreciated.
The presentation will take place at the Woodstock Public Library beginning at 7pm.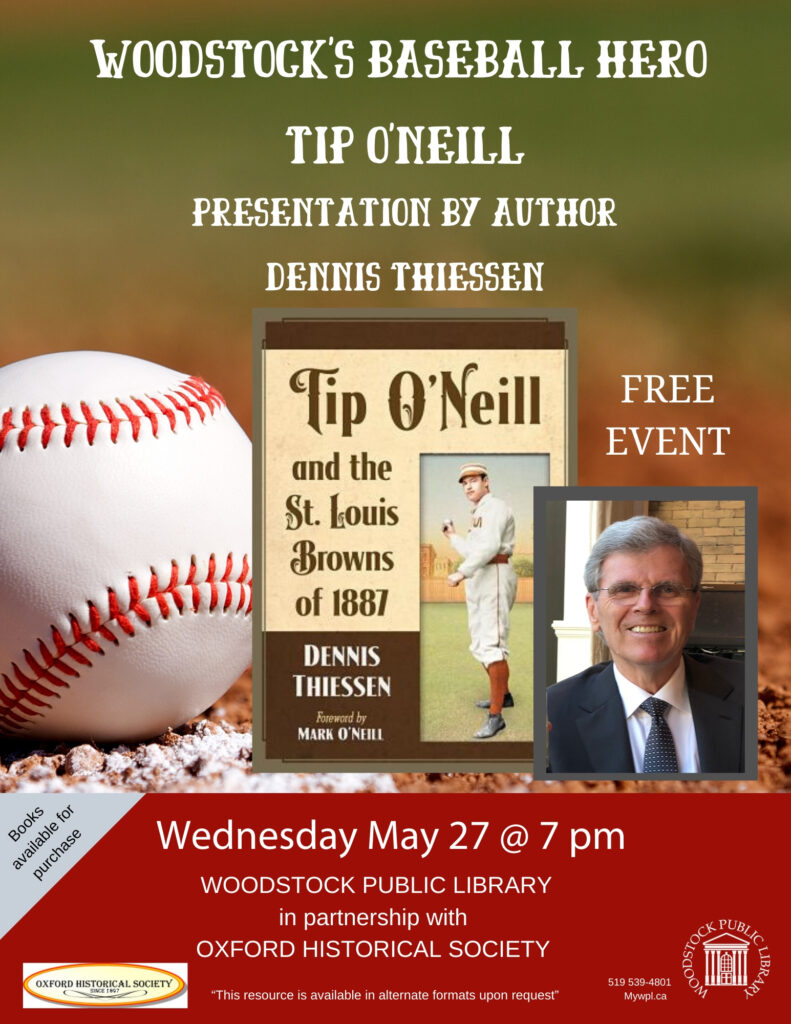 Thursday, October 15, 2020:
Special Presentation with WERC, featuring Brenda Boswell
Please join us in welcoming Brenda Boswell for her presentation: Women and The Bicycle Craze – Change and Resistance in 1890's Oxford County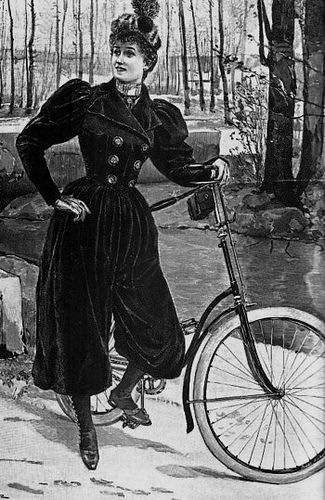 Bicycles took much of the world by storm during the late Victorian age. The bicycle provided a tool for women to ride into a whole new world. This presentation will explore how the bicycle helped women move into this new era and the societal resistance that came with it.

It includes research by Rebecca Beausaert, on turn of the century bicycle clubs in Ingersoll and Tillsonburg.
---
Keep checking our website as more information about upcoming events will be posted.