Welcome to the Oxford Historical Society.
Throughout the year the Society presents free talks, usually historical in nature, on a variety of topics. The majority of these presentations are held on the last Wednesday of the month at 6:45pm at the Woodstock Museum, NHS. On this page you will see a listing of the newest presentations.  For a complete listing of upcoming talks and events please click on the Upcoming Events tab.
If you have a topic that you wish to present to the Oxford Historical Society (OxHS), please contact us at info@oxhs.ca
If you wish to volunteer or become a member of the OxHS please click on the following tabs: Volunteer or Membership.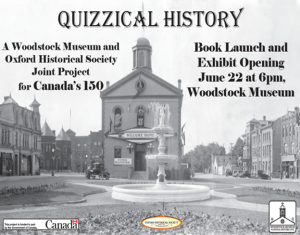 About Quizzical History:
To celebrate Canada's 150th Birthday, the Oxford Historical Society and Woodstock Museum, NHS,  have co-operated in a project to compile into a book, Quizzical History, a complete series of questions and answers about local history. They were originally published in a weekly quiz contest as articles in Woodstock's Oxford Review newspaper from late 1999 to early 2003. Chris Packman, member of the original Quiz Committee, was responsible for compiling and editing its text; Adam Pollard, Woodstock Museum, found suitable pictures.

The questions and answers in the book cover a sampling about Oxford County people, places and events from the early 1800s until more recent times. Its contents have been grouped into 16 Topic sections, e.g., Business, Crime and Disasters, Entertainment, Military, Oxford Men and Women, Places, Politics, Recreation & Sports, etc. There is a table of contents at the front of Quizzical History that lists the page start of each Topic; an index at the back that gives a complete listing of all the questions, grouped by Topic.
Quizzical History is available for purchase either from the Woodstock Museum, NHS or from the Oxford Historical Society for $20 (taxes included). It will also be available for purchase at the Pavlo in the Park event on Saturday, September 2, 2017 at Victoria Park, Woodstock ON.

Upcoming Events:
Wednesday, October 25, 2017:
Laurel Beechey will talk about Life in Tillsonburg during WWI. This is the 4th Commemorative talk honouring WWI.
Wednesday, November 29, 2017:
Kerrie Gill, from the Woodstock Museum, NHS will present her collection of historic jelly molds, complete with historic recipes and some tasty samples.
Wednesday, January 31, 2018:
Annual General Meeting
Speaker tonight will be Jack Hedges discussing the Canada Company