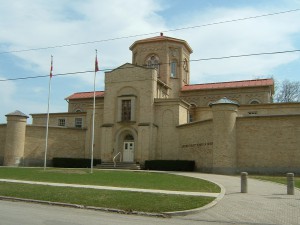 Welcome to the Oxford Historical Society.
Throughout the year the Society presents free talks, usually historical in nature, on a variety of topics. The majority of these presentations are held on the last Wednesday of the month at 6:45pm at the Woodstock Museum, NHS. On this page you will see a listing of the newest presentations.  For a complete listing of upcoming talks and events please click on the Upcoming Events tab.
If you have a topic that you wish to present to the Oxford Historical Society (OxHS), please contact us at info@oxhs.ca
There are many exciting opportunities to volunteer with the Oxford Historical Society. To find out more about the opportunities please click on the Volunteer tab.
If you wish to become a member of the OxHS please click on the Membership tab.
Upcoming Events:
Grand Day Out! Saturday, June 22, 2019:

This year's event includes a guided tour of Mountain Oak Cheese,  beginning at 10am. The tour costs $7.00 per person and the tour fee will be paid to the Society organizer the day of the event. After the tour there will be some time to browse and shop before heading for lunch at Trail's Edge Tavern in Plattsville. After lunch we will all head over to the Chesterfield United Church to see the Plattsville & District Heritage Society historic display of 50's & 60's memorabilia.
RSVP is required to for the Grand Day Out. You can RSVP by adding your name to the sign-up sheet in the Resource Centre or email the Society at info@oxhs.ca.  If you email the Society be sure to include your full name, email address and phone number.
RSVP closes on Wednesday, June 19th.
Final information about the event, including meeting places and maps, will be emailed to participants on either Thursday, June 20th or Friday, June 21st.
Art in Victoria Park – Saturday, July 20, 2019:
Once again the City of Woodstock is hosting Art in Victoria Park, a day of celebration of Art, Culture, Heritage and Music from 2-9pm.
Come and visit the Society's booth at this event, from 2-6pm, to learn about local history and to purchase publications by local authors.  The Society is looking for volunteers to help out at the booth. If you wish to volunteer email the Society at info@oxhs.ca.