Welcome to the Oxford Historical Society.
Throughout the year the Society presents free talks, usually historical in nature, on a variety of topics. The majority of these presentations are held on the last Wednesday of the month at 6:45pm at the Woodstock Museum, NHS. On this page you will see a listing of the newest presentations.  For a complete listing of upcoming talks and events please click on the Upcoming Events tab.
If you have a topic that you wish to present to the Oxford Historical Society (OxHS), please contact us at info@oxhs.ca
There are many exciting opportunities to volunteer with the Oxford Historical Society. To find out more about the opportunities please click on the Volunteer tab.
If you wish to become a member of the OxHS please click on the Membership tab.
Upcoming Events:
Membership Renewals!!!
Dear Members,
It is that time once again to renew your membership
 – $25 for a single membership, $30 for a family membership
 – memberships run from January to December
With a membership you will receive a quarterly newsletter, voting privileges, access to the Resource Centre (fees may apply for printed material), emails about upcoming events
You can pay in person at our AGM on Wednesday, January 30, 2019. Payments can be made by cheque/money order, made out to the Oxford Historical Society or paid in cash. 
If you would like to join the Society please complete the Membership Form and either bring it with you to our next meeting or mail it to the Resource centre.
Our mailing address is: PO Box 20091, Woodstock, ON N4S 8X8
If in person, the Resource Centre is open Monday to Friday from 10am to 4pm.
The address is:
Oxford Historical Society
Governor's House
82 Light Street, Court House Square
Woodstock, ON N4S 6H1
Saturday, November 24 and Sunday, November 25, 2018
Come and visit our booth at the Oxford Creates Art Expo
The event is organized by Oxford Creative Connections and will be held at Reeves Community Hall, Cowan Park, Woodstock ON
Show hours: Saturday, November 24, 10:00am—4:00pm; Sunday, November 25, 12:00—4:00pm
Show information: oxfordcreativeconnections.com
Wednesday, November 28, 2018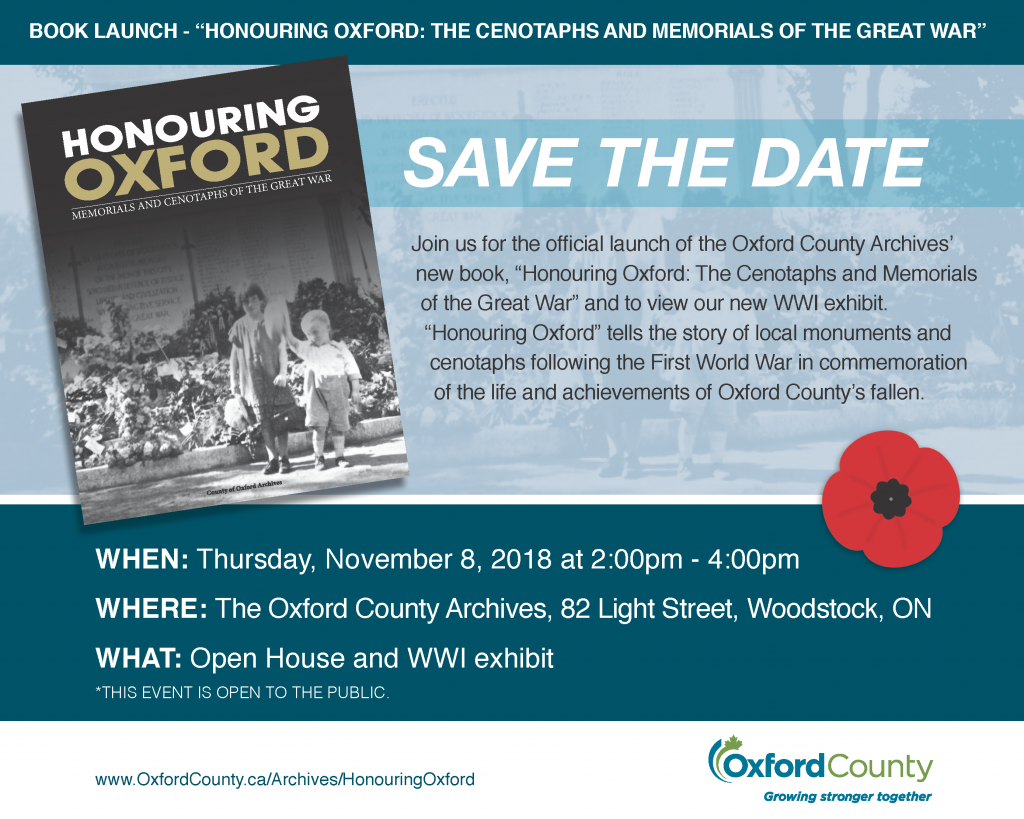 Stephen Smith will be joining us tonight to discuss the publication Honouring Oxford: Cenotaphs and Memorials of the Great War.  This is the 5th and last talk in our WWI series. The meeting will take place at the Woodstock Museum, NHS beginning at 6:45pm. This is a free event and all are welcome to attend.

Nominations are Open!!!!
If you wish to join the Executive Board for 2019 nominations are now being accepted for the following positions: President, Vice President, Treasurer, Secretary, Membership, Archives/Architecture, Communications & Newsletter and Member(s) at Large.
To submit your nomination email the Society at info@oxhs.ca
The final vote for nominations will be held at our AGM on Wednesday, January 30, 2019
Jack Hedges will be our presenter for the AGM, his topic for the night will be the Canada Company.