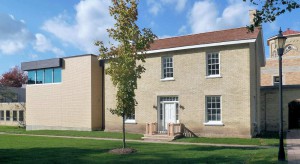 Due to the COVID-19 Virus the OxHS Resource Centre will be closed until further notice. We can be reached by email at info@oxhs.ca
Our Resource Centre offices are in the same foreground buildings (shown right) as the Oxford County Archives. The house was originally the Governor's House of the Old Oxford County Jail; was extensively renovated between 2009 and 2012 and a new annex added on its left. This building is also home to the Oxford County Archives and the Woodstock Branch of Ontario Ancestors.

The Resource Centre offices are open Monday to Friday between 10 am and 4 pm. They are staffed by volunteer members of Oxford Historical Society and the OGS Oxford Branch, to help you with your historical research.
To directly email the Society click on this link: info@oxhs.ca
For help researching non-family local history, please phone the Resource Centre at 519-421-1700, prior to your visit to ensure that an Oxford Historical Society member is also present to assist you with your research, thank you.
The Resource Centre is closed all statutory holidays and over the Christmas holiday season.

82 Light St.,
Court House Square
Woodstock, ON N4S 6H1
Ph: 519-421-1700
Email: info@oxhs.ca
The mailing address is:
Oxford Historical Society
PO Box 20091
Woodstock, ON N4S 8X8
Canada
The house is south of Buller St., between Light St. and Graham St. Entrance is from the north side of the Governor's House. Public parking is available on Buller St. and around Victoria park.