Wednesday, January 25, 2017:
Please join us for the OxHS AGM. Nominations are being accepted for next year's Board members. If anyone wishes to become a board member please contact the OxHS by email at info@oxhs.ca or calling 519-421-1700 so that your name can be added to the nomination list.
Our speaker for tonight will be Jack Hedges discussing the Yukon Conference: "The North and the First World War" which he attended in May 2016. The meeting will be held at the Woodstock Museum, NHS at 6:45pm. All are welcome to attend.
Wednesday, February 22, 2017:
Don Wilson will present his collection of historical Oxford County postcards.
Thursday, March 2, 2017:
Zonta celebrates International Women's Day with a performance at the Woodstock Market Centre Theatre of: "Women on the Home Front", including Oxford County 1939-1945, at 7pm
Professional actors will be doing a Vignette of Women that worked at the CNR locomotive repair shop in Stratford as well we will have 5 stories of local women who played a role during the war both here and abroad.
Zontian yellow roses will also be for sale and the proceeds will go to support Zonta International projects:
addressing human trafficking and unsafe migration

delaying early marriage through education and literacy training

eliminating obstetric fistula and reducing mother and child deaths

funding schools and education for vulnerable and excluded girls
Tickets are $25 and include light refreshments, cash bar available.
Tickets are available from Mostly Roses, from Zontian members or by calling Brenda at 519-539-0611
Sunday, March 5, 2017:
Come and visit the Oxford Historical Society's booth at the Recreation & Leisure Fair from 1-4pm at Cowan Park.
Wednesday, March 29, 2017:
Tonights speaker will be Bob Strawhorn who will speak on Canada's involvement and the blockade during the US Civil War.
Wednesday, April 26, 2017:
Susan Shepley will present a talk on Aimee McPherson.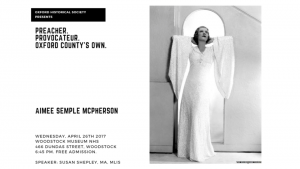 Wednesday, May 31, 2017:
Murray Coulter will present a talk on the Fenian Raids and Malcolm McKenzie.

Thursday, June 22, 2017:
Please join us for the book launch and exhibit opening of Quizzical History at the Woodstock Museum, NHS at 6pm.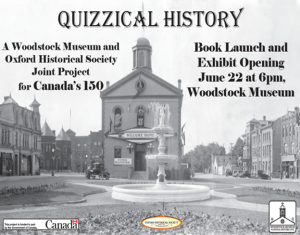 Saturday, June 24 , 2017:
Grand Day Out: Dundurn Castle and Hamilton Military Museum.
This year we will be visiting Sir Allen MacNab's homestead and grounds, along with the Hamilton Military Museum. More information about this event will be posted.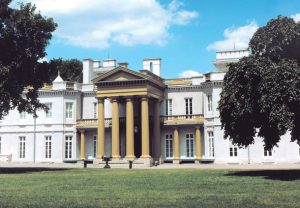 Pavlo In the Park!!!
Saturday, September 2, 2017 at Victoria Park in Woodstock ON:
Proudly presented by the City of Woodstock. The Oxford Historical Society will be providing tours and information about the Courthouse, the old jail and some of the historic homes surrounding Victoria Park. Volunteers are needed for this event. Please contact the Society to find out how you can help out for this event.
More information about this event will be posted as it becomes available.
Wednesday, September 20, 2017:
Please join us tonight for our annual joint dinner meeting with the Ontario Genealogical Society, Woodstock Branch.
Tonight's keynote speaker will be Professor Alan MacEachern's speaking on:
The Dominion of Nature: How Canadians Thought about the Environment at Confederation.
What did Canadians think of the environment in 1867? How have the ideas about nature evolve of the last century in a half? Professor MacEachern, from the University of Western Ontario, will present a lively, visual history of our environment in celebration of Canada's sesquicentennial.

Professor MacEachern, teaches at Western Univeristy, and has published many books and papers on Canadian history which emphasiss the importance of the environment and climate as it has shaped our nation. He is a founding director of NiCHE: Network in Canadian History & Environment, and the author of 'The Associate' column in University Affairs and the editor of the Canadian History & Environment series at University of Calgary Press. Two or his most recent publications include (with Robert Wardhaugh): Origins Canadian History to Confederation (pictured on the left), and Destinies: Canadian History Since Confederation (information about Prof. MacEachern provided by University of Western Ontario's website history.uow.ca/people/faculty/maceachern).
Our other honorary speaker will be Chris Packman, who will be presenting his new book: Quizzical History.
Dinner tickets are $25 per person (includes taxes, dinner, gratuity, speaker etc.)
Advance tickets are available for sale from the OxHS Resource Centre:
82 Light St., Woodstock ON N4S 6H1
Ph: 519-421-1700;, Email info@oxhs.ca
Dinner will be held at Southgate Centre
191 Old Wellington St. S, Woodstock ON N4S 3E1
Open bar 5:30pm, Dinner 6:00pm
Wednesday, October 25, 2017:
Laurel Beechey will talk about Life in Tillsonburg during WWI. This is the 4th Commemorative talk honouring WWI.
Saturday & Sunday, November 18 &19, 2017:Oxford Creates Art Expo at Cowan Park, presented by Oxford Creative Connections
Place join us at our booth for this event bringing together local artists and writers. The OxHS will be selling books by our local authors, including Chris Packman's Quizzical History. The event runs from 10am-4pm on Saturday, Nov. 18th & from noon-4pm on Sunday, Nov. 19th. More information about this event can be found on the Oxford Creative Connections Face Book page.
If any member wishes to help out at the booth please email the OxHS at info@oxhs.ca.
Wednesday, November 29, 2017:
Kerrie Gill, from the Woodstock Museum, NHS will present her collection of historic jelly molds, complete with historic recipes and some tasty samples.