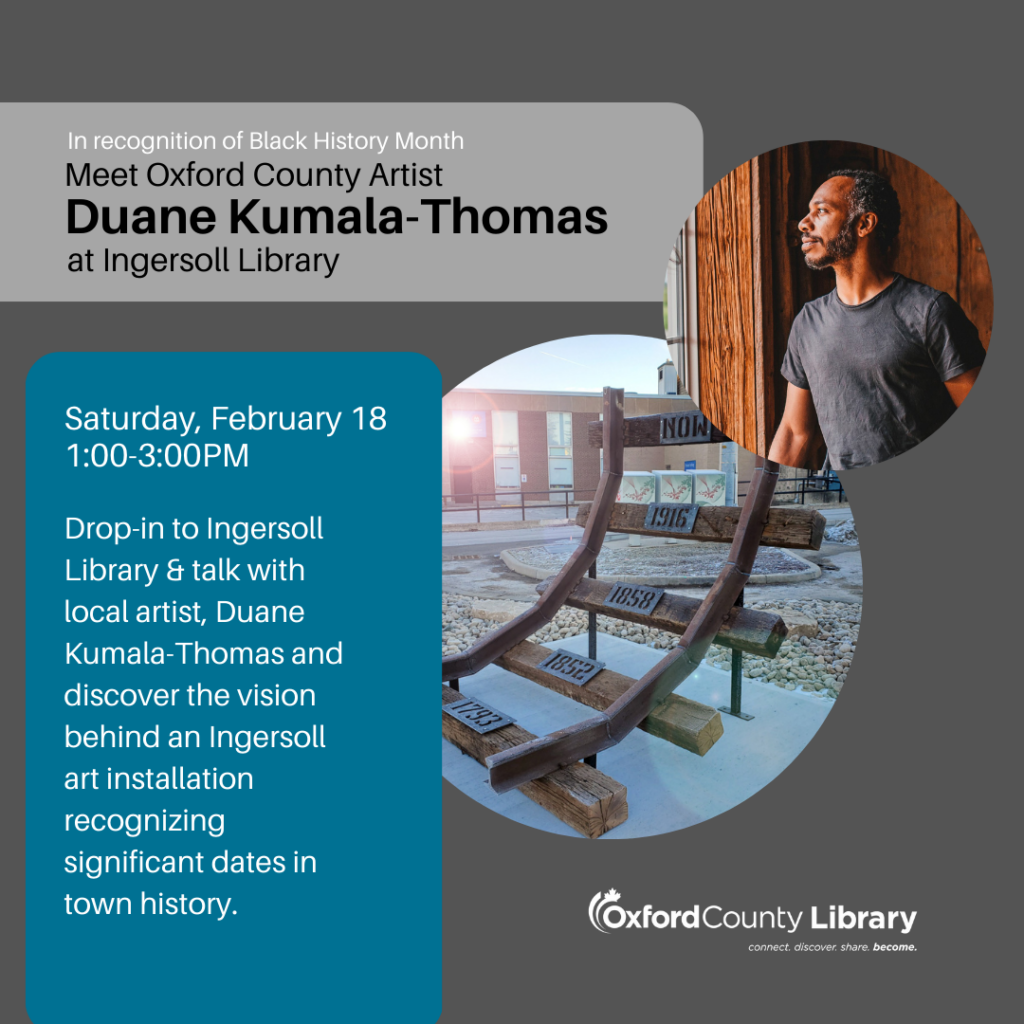 Hello Everyone,
Please see this guest post from the Ingersoll Library:
Curious about the new Underground Railroad Sculpture in Ingersoll?
Join us at Ingersoll Library Saturday, February 18, 2023 from 1-3PM

Meet local artist Duane Kumala-Thomas and discover the vision behind an Ingersoll art installation recognizing significant dates in town history.

Join local historian, Heather Rennalls and explorer her knowledge of Ingersoll's Black history.

Ingersoll Town Councillor, Khadijah Haliru, will speak about her story from Nigeria to Brampton to Ingersoll.
Special Guests including: Town Councillor, Mike Bowman, Oxford Caribbean Canadian Association and more.

"Using the familiar theme of the underground railroad as a focal point, the sculpture aims to represent Ingersoll's involvement in accepting, aiding and growing amongst a new and increasing black population in the 1800's and beyond. The visual of train tracks breaking through the soil and springing up into the Ingersoll air will present viewers with the emphatic feeling of a journey to this place, where travellers came up for air, settled and planted new roots".

Duane Kumala-Thomas
Feel free to spread the word about this special event via social media or by printing and displaying the attached posts: Ingersoll Library Event Duane Kumala-Thomas
The Ingersoll Library can be reached at:
The Town Centre, 130 Oxford Street Ingersoll ON N5C 2V5
Email: ingersolllibrary@ocl.net
Phone: 519-485-2505