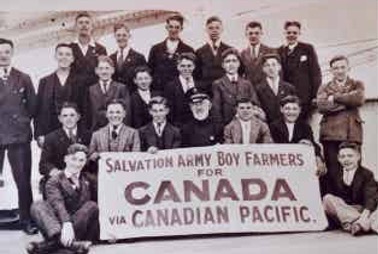 Hello Everyone,
Dr. Elaine Becker's newest local history book on the story of Burnside Lodge is coming together.
Here is an excerpt from the book:
The young men responded to advertisements or word of mouth information with application to the Salvation Army.  If they had the proper backing and references, they were sent for training at Hadleigh Farm Colony. The young men were trained and tested and then sent to Canada or Australia for employment with local farmers.  In Canada they went to many centres but Smith Falls or Woodstock Ontario were primary centres with officers assigned for follow-up.

The boys were warmly greeted and were transported to the lodge or marched from the train station as the occasion allowed.  They were fed and, on many occasions, spent the first night there before proceeding to their appointed local farms.

Before proceeding to the farm, The Salvation Army made financial agreement between all parties for the Army to protect the wages of the young men.  The wages minus any funds advanced to the young man were kept in trust by the Army and records were kept to ensure fair wages were received. 
Elaine is now at the stage where she is looking for volunteer(s) to help design the cover.
If you are interested in designing the book cover for "So They Came – the young men farmers", please email Elaine at ebecker2@sympatico.ca.