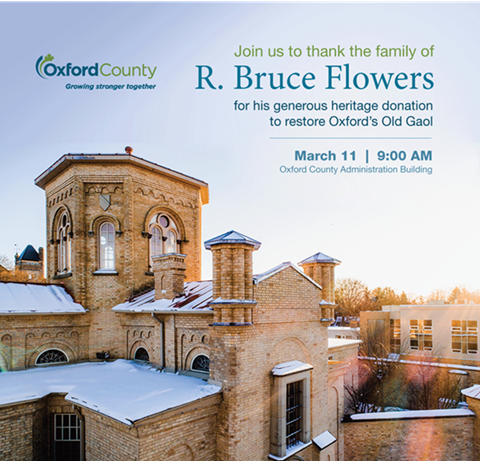 Hello Everyone,
I am forwarding on an invitation from Oxford County Council:
County Council will formally acknowledge the Flowers family on March 11 for a generous $250,000 donation from the estate of the late R. Bruce Flowers to restore part of the Old Gaol on Buller Street in Woodstock. A light reception and archival display will take place beforehand.
When: Wednesday, March 11, 2020
9:00 a.m. Light reception and Old Gaol display
9:30 a.m. Council presentation
Who: David Flowers, Jim Flowers and Shelagh Morrison, siblings of Bruce Flowers, will be in attendance, with David Flowers speaking
Warden Larry Martin will present each family member with a framed photograph showcasing the Old Gaol's reconstructed features, accompanied by a miniature replica of the donor recognition plaque now affixed to the building
Where: Oxford County Administration Building
21 Reeve Street, Woodstock
Main lobby and Council Chamber
The reconstruction project funded by the donation was used at the request of Bruce Flowers to restore the chimneys and bartizans (overhanging turrets) that were removed from the Old Gaol in 1954, a century after it was constructed. The Old Gaol, which currently houses public health services, was built in the Italianate Romanesque style and retains many architecturally significant features, such as Tuscan Gothic detailing and a central pillar foundation that carries the entire weight of the building.
For more information contact:                                        
Chloe Senior, Clerk, Oxford County                                 
519-539-9800, ext. 3001 | csenior@oxfordcounty.ca