Hello Everyone,
With the good weather comes a chance to go and explore parts of Woodstock. One of the best areas to visit is Victoria Park, one of the oldest parks in the city where you can have a picnic on the lawn.
In 1845 Victoria Park was the County Fairgrounds for the District of Brock. We became Oxford County in 1849. In 1872 the fairgrounds were relocated to an area close to the Thames River and the land was given to Woodstock for use as a park. On May 24, 1896 it was named Victoria Park in honour of Queen Victoria's Diamond Jubilee, to celebrate her 60 years on the throne.
At one time there was a bandshell where bands would come to entertain park goes on summer days. The bandshell used to be located to the right of the Cenotaph but was later moved to the west corner across from the entrance to the jail.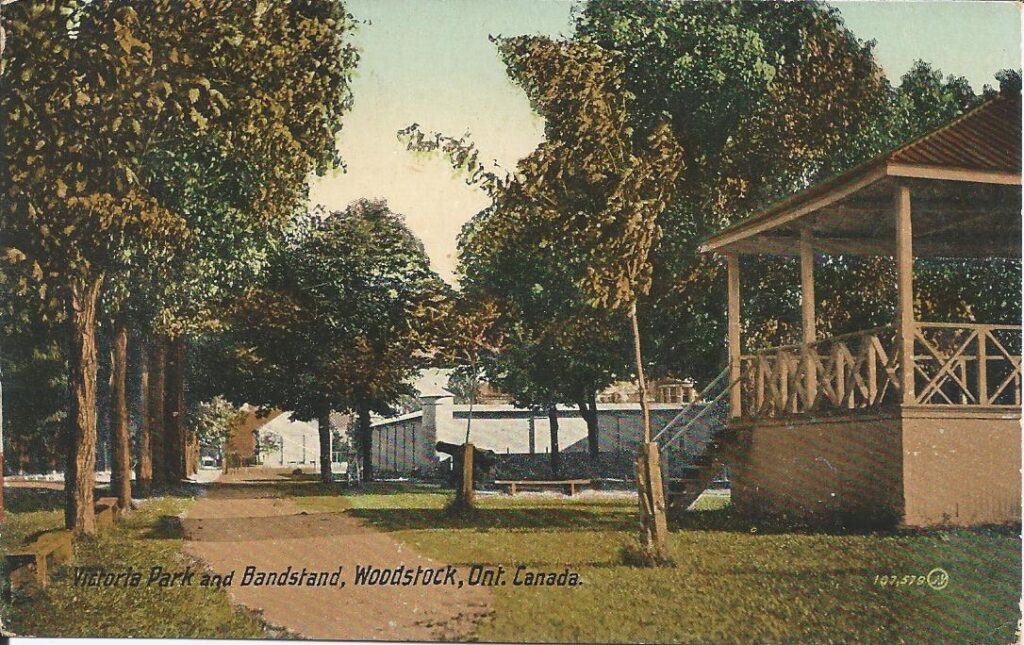 The Cenotaph was erected in 1925 to commemorate the soldiers who perished in the Great War.  It is located on the southeast corner of the park. It now includes memorials for WWII soldiers and those of later wars. On April 11, 2015 a memorial for soldiers who died in Afghanistan was placed next to the Cenotaph. Every year on November 11, Remembrance Day ceremonies take place at the Cenotaph.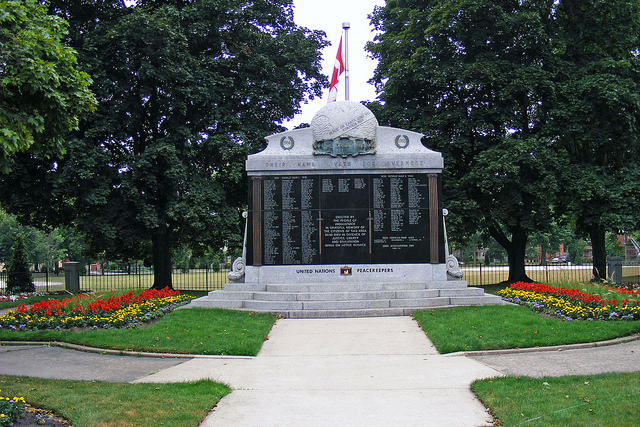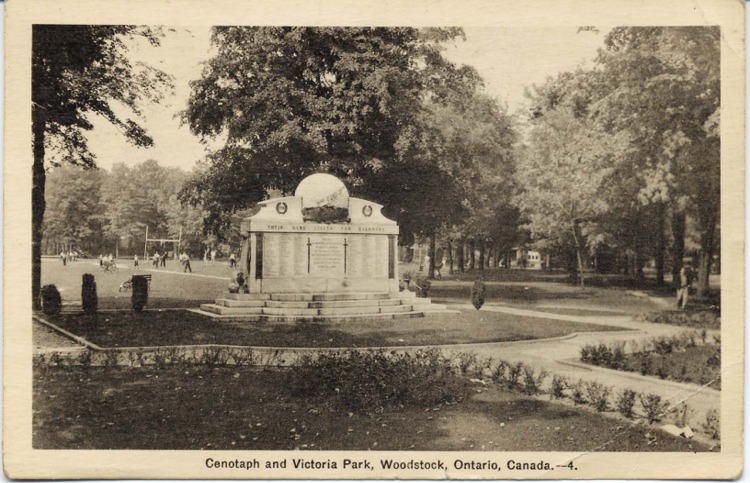 For many years the park has served as the sports field for the students of WCI.  It was the location for the military marches and reviews conducted every spring.  Students were required to participate as part of the school program.
On the northwest corner of Victoria Park are two of the four cannons that were gifted to the City of Woodstock in 1900. The other two are located in front of the Court House. The cannons were originally manufactured in England in the 1840's and were shipped here to Canada to aid in our defense, in case the Americans attacked. These cannons were never fired in anger and overtime they became obsolete and were placed in various Canadian cities.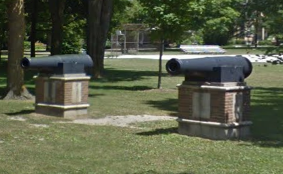 Today Victoria Park has two baseball diamonds and has recently become home to the Art in Victoria Park festival held in July.
If you are looking for something to do on these long days – why not enjoy a visit to Victoria Park?
Article, pictures and postcards are property of the Oxford Historical Society.

If you have an article concerning the history of Oxford County that you would like published on the Society's blog please email us at info@oxhs.ca.