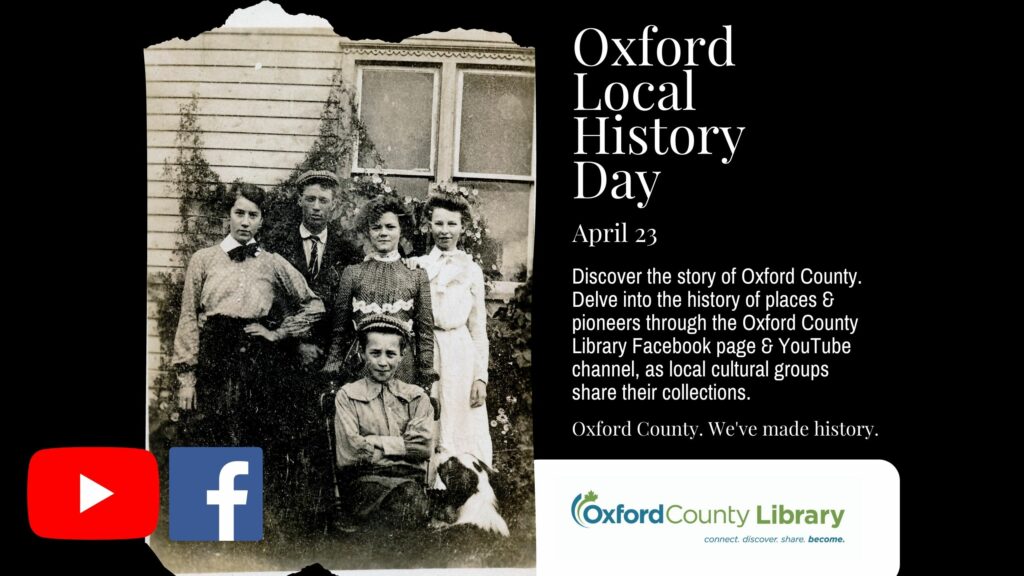 Hello Everyone,
This guest post is provided by Oxford County Libraries.
Your invitation to participate in Oxford Local History Day 2022!
Oxford County Library will again be taking the spirit of Oxford Local History Day online with our 2nd annual event celebrating the history of Oxford County.
On Saturday, April 23 we are hoping to again showcase a full day of virtual local history presentations that will bring to light the story of Oxford. Experience collections, exhibits & featured stories from archives, museums & heritage groups from around Oxford County.  
Are you interested in telling the story of Oxford? Consider creating a short video or a narrated slide presentation to provide education around your collections and promote your organization that could be featured on Oxford County Library social media sometime during Oxford Local History Day.
Explore our outstanding submissions from 2021 on the Oxford County Library YouTube Channel:
If you would like to participate in this initiative, please indicate your willingness to do so by Monday, March 28.  Video presentation submission deadline is Thursday, April 14.
Oxford County. We've made history!
Contact: VICKI BRENNER
Digital & Local History Technician | Oxford County Library
519-485-2505 ext. 3280 | vbrenner@ocl.net