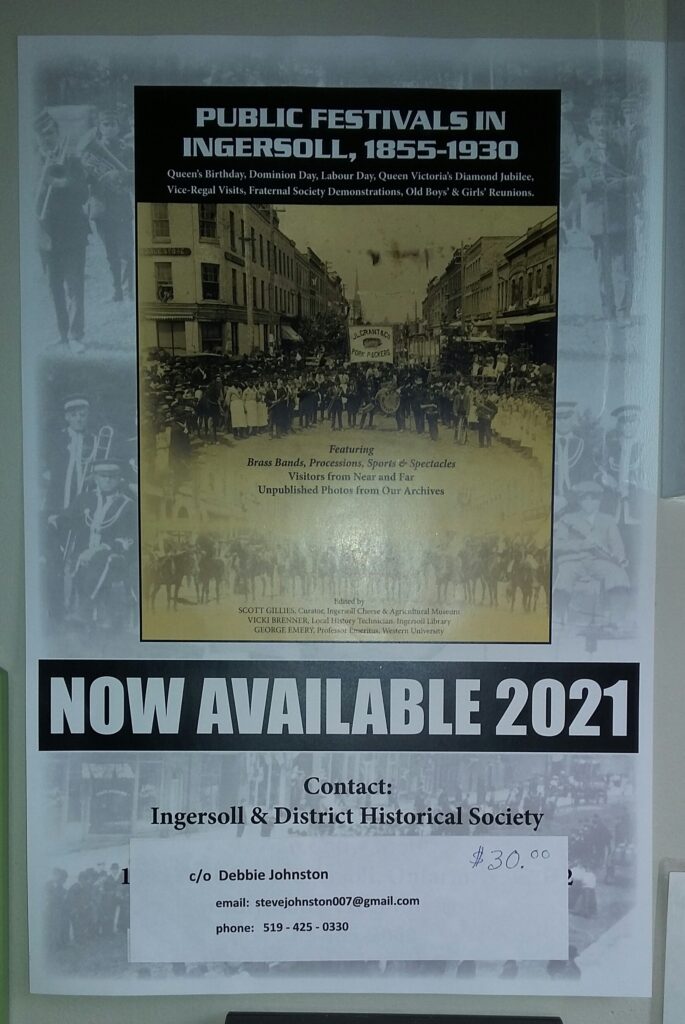 Hello Everyone,
Please see the announcement about George Emery's new book, with an excerpt from the book's introduction – penned by George:
"THE BOOK'S PURPOSE:
The book enriches the literature on Ingersoll's local history. It describes Ingersoll's street festivals in their late-19th-and early-20th-century times and furnishes guidelines for their interpretation. It supplements newspaper descriptions with photographic images, drawn from the rich archives of Ingersoll's Cheese & Agricultural Museum and the Ingersoll Library. In the process the book showcases those archives as gateways for research on our community's local history Gateways, indeed!
The digital files on the Oxford County Library local history website offer access to documentary sources – from the comfort of one's home. Moreover, the Ingersoll Historical Photo Gallery, developed in collaboration with Scott Gillies of the Ingersoll Cheese & Agricultural Museum, provides a brilliant introduction to 30 some dimensions of Ingersoll's past. The library's rich digital files, in turn, lead directly to photographs and artifacts in Scott's Cheese & Agricultural Museum – simply a gem of a place to visit.
Through its several book publications, the Ingersoll & District Historical Society is an essential third agency for promoting knowledge of our local past. Cathy Mott and her colleagues have set the bar high for publication. In each case, they vet the submitted manuscript, dress up its formal presentation, pay the printer's bills, and manage sales to our townspeople. Their hard work is much appreciated by the editors of this volume."
This book is available for $30.00, either from the Ingersoll Cheese & Agricultural Museum or contact Debbie Johnston, see her email and phone number in the image above.