Many thanks to Longley Auctions for providing this guest post.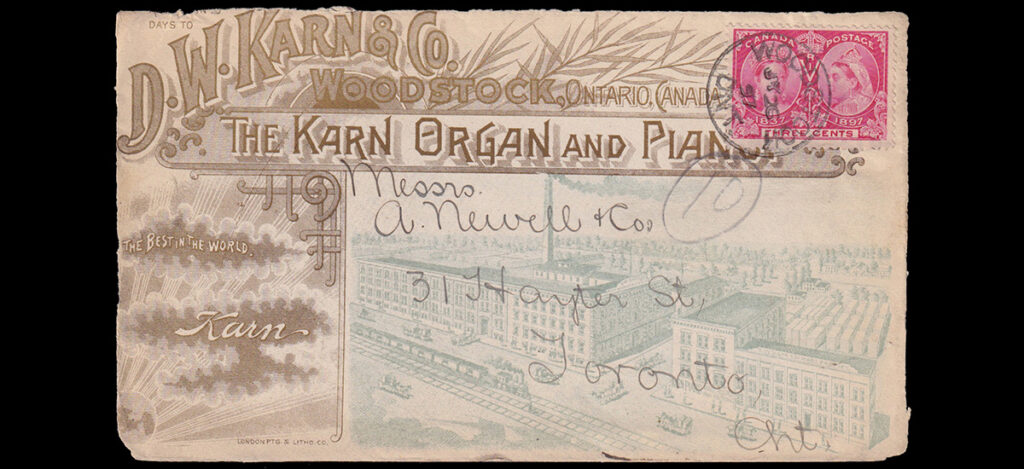 This information is taken from Longley Auctions FB page: D.W. Karn piano and organ company, formed in 1867, the year of Canada's Confederation. It operated in Woodstock, Ontario and was owned by D.W. Karn, who was also the mayor and ran for Parliament twice. The first factory was located at Dundas and Reeve Street, later moving to larger facilities at Dundas and Wellington. This factory burned down twice and was later relocated to Dundas and Wilson.
Longley Auctions is a dealer in postal history and they came across this advertising cover for D.W. Karn & Co., and kindly sent it onto the Oxford Historical Society. The cover shown has a 3c Jubilee tied by a Woodstock postmark (1897) and shows the enormous factory. The cover is a front only (the back is missing). The item is available for purchase from Longley Auctions for $35.00, please contact them for more information.
More information and a display of some of the organs and pianos manufactured by the D.W. Karn Organ and Piano Co, can be found by visiting the Woodstock Museum NHS; or from the website Woodstock Newsgroup by Paul Roberts.
Correction notice: There was an error in the video contained in the post dated June 8, 2020 – Oxford County Library Local History. The Oxford County Branch Ontario Ancestors was mistakenly referred to as the Woodstock Branch of Ontario Ancestors (slide 13). The corrected video is located on the Society's homepage.

If you have an article concerning the history of Oxford County that you would like published on the Society's blog please email us at info@oxhs.ca.