Welcome to the Oxford Historical Society.
Throughout the year the Society presents free talks, usually historical in nature, on a variety of topics. The majority of these presentations are held at the Woodstock Public Library. On this page you will see a listing of the newest presentations.  For a complete listing of upcoming talks and events please click on the Upcoming Events tab.
If you have a topic that you wish to present to the Oxford Historical Society (OxHS), please contact us at info@oxfordhistoricalsociety.ca
If you wish to volunteer or become a member of the OxHS please click on the following tabs: Volunteer or Membership.
Available for purchase: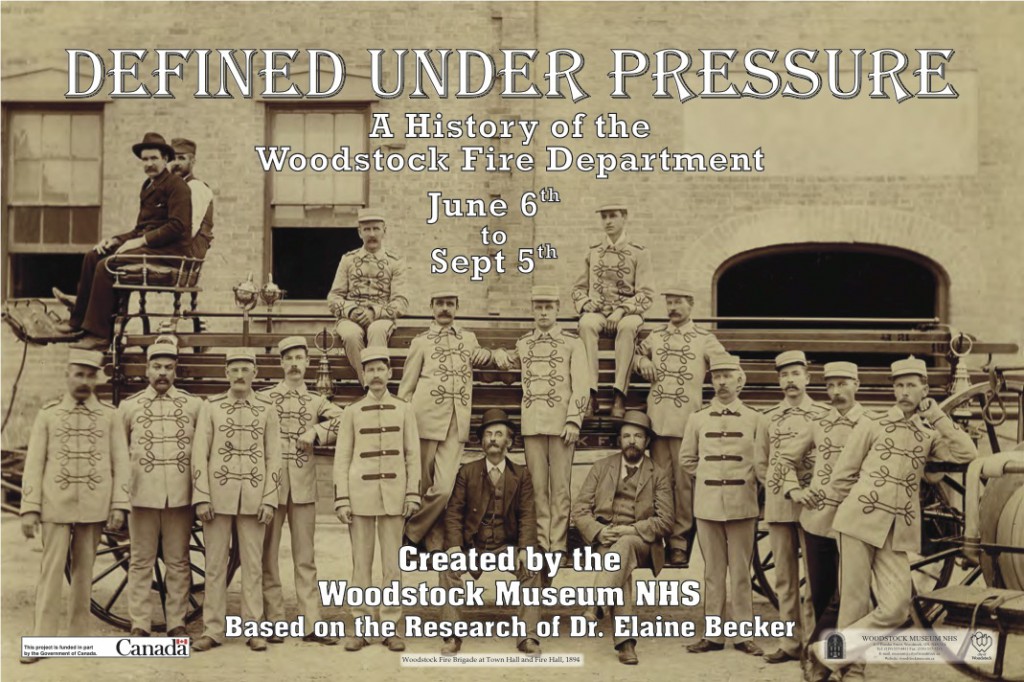 A new book by Dr. Elaine Becker, commemorating the 150th Anniversary of the Woodstock Fire Department. Defined Under Pressure is available for $15.00 (taxes included), at one of the following locations:  the Resource Centre of the Oxford Historical Society, the Parkinson Road Fire Station, and the Woodstock Museum NHS. 
Saturday/Sunday, November 14&15, 2015:
Oxford Creates 2015 will be held the weekend of November 14th – 15th. This is a fine art show and sale featuring 35 artists, 25 authors and live music. The Oxford Historical Society will be there promoting the area's history and selling books by various local authors. Saturday's hours are from 10am-4pm, Sunday's hours are from noon-4pm. The event is free and will be held at the Oxford Golf & Country Club, formerly the Craigowan Golf & Country Club.
Wednesday, November 25, 2015:
Bryan and Shannon Prince will present their talk on Bryan's latest book "My Brother's Keeper: African Canadians and the American Civil War". This book tells the story of the Blacks who came into Canada, and who later returned to the States to fight for the Union cause during the American Civil War. Please click on the link to learn more about Bryan Prince and his work. Shannon Prince is the curator of the Buxton Museum, NHS in North Buxton. This talk is co-sponsored with the Woodstock Public Library, and will be held on the Library's 2nd floor at 7pm.  Space is limited and tickets must be picked up in advance from the Library. This is a free event.