Welcome to the Oxford Historical Society.
Throughout the year the Society presents free talks, usually historical in nature, on a variety of topics. The majority of these presentations are held at the Woodstock Public Library. On this page you will see a listing of the newest presentations.  For a complete listing of upcoming talks and events please click on the Upcoming Events tab.
If you have a topic that you wish to present to the Oxford Historical Society (OxHS), please contact us at info@oxfordhistoricalsociety.ca
If you wish to volunteer or become a member of the OxHS please click on the following tabs: Volunteer or Membership.
Available for purchase: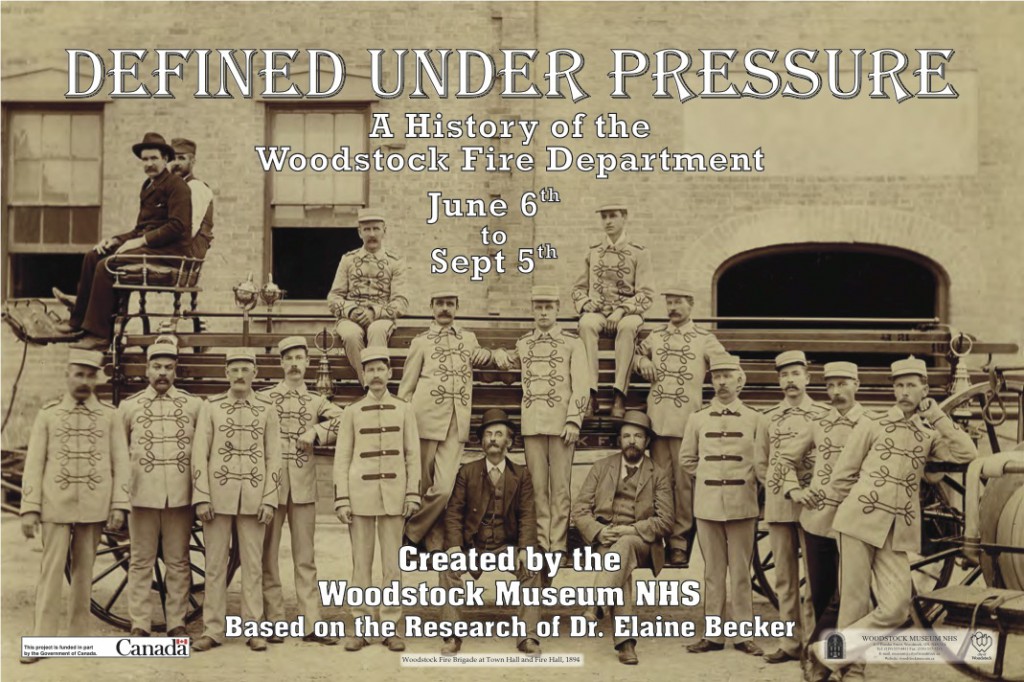 A new book by Dr. Elaine Becker, commemorating the 150th Anniversary of the Woodstock Fire Department. Defined Under Pressure is available for $15.00 (taxes included), at one of the following locations:  the Resource Centre of the Oxford Historical Society, the Parkinson Road Fire Station, and the Woodstock Museum NHS. Please also visit the exhibit at the Woodstock Museum NHS, which runs from June 6 to September 5th. 
Wednesday, October 28, 2015:
Our guest speaker for this evening will be Laurel Beechey. Laurel will be discussing the history of the  Pioneer Graveyard and how to research a family from a date on a tombstone, and will also describe some "Tombstone Tales". She will expand upon Prof. Bird the Black Barber on Broadway, the unusual Rutherford family, drownings, burnings and more. A very lively and scary talk for the Hallowe'en month. This talk will take place at 7pm at the Woodstock Public Library.
Wednesday, November 25, 2015:
Bryon and Shannon Prince will present their talk about Bryan's books concerning the history of Blacks coming into Canada during the American Civil War and the Underground Railroad, Bryan Prince.  Shannon Prince is the curator of the Buxton Museum in Chatham, Buxton Museum. This talk is co-sponsored with the Woodstock Public Library, and will be held on the Library's 2nd floor at 7pm.  Space is limited and tickets must be picked up in advance from the Library. This is a free event.