Welcome to the Oxford Historical Society.
Throughout the year the Society presents free talks, usually historical in nature, on a variety of topics. The majority of these presentations are held on the last Wednesday of the month at 6:45pm at the Woodstock Museum, NHS. On this page you will see a listing of the newest presentations.  For a complete listing of upcoming talks and events please click on the Upcoming Events tab.
If you have a topic that you wish to present to the Oxford Historical Society (OxHS), please contact us at info@oxhsociety.ca
If you wish to volunteer or become a member of the OxHS please click on the following tabs: Volunteer or Membership.
Announcement: Director Wanted!

There is an opening for the position of Director on the Board of the Oxford Historical Society. If you are interested in becoming a Board member please contact the Society at info@oxhs.ca. The current Board will review all applications and will notify the chosen candidate. This is a great opportunity for someone who would like to learn more about the history of Woodstock and Oxford County and to gain valuable experience as a board member.
Special Announcement:
Please see the attached flyer in regards to the annual joint dinner meeting with the Ontario Genealogical Society, Woodstock Branch.
2016 Joint Annual Dinner meeting
Available for purchase: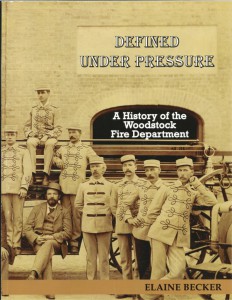 A new book by Dr. Elaine Becker, commemorating the 150th Anniversary of the Woodstock Fire Department. Defined Under Pressure is available for $15.00 (taxes included), at the  the Resource Centre of the Oxford Historical Society and at the Woodstock Museum NHS.