Welcome to the Oxford Historical Society.
Throughout the year the Society presents free talks, usually historical in nature, on a variety of topics. The majority of these presentations are held on the last Wednesday of the month at 6:45pm at the Woodstock Museum, NHS. On this page you will see a listing of the newest presentations.  For a complete listing of upcoming talks and events please click on the Upcoming Events tab.
If you have a topic that you wish to present to the Oxford Historical Society (OxHS), please contact us at info@oxhsociety.ca
If you wish to volunteer or become a member of the OxHS please click on the following tabs: Volunteer or Membership.
Upcoming Events:
Wednesday, April 26, 2017:
Susan Shepley will present a talk on Aimee McPherson.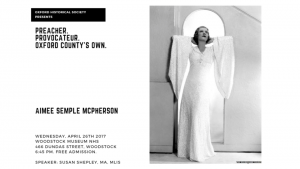 Wednesday, May 31, 2017:
Murray Coulter will present a talk on the Fenian Raids and Malcolm McKenzie.

Saturday, June 24 , 2017:
Grand Day Out: Dundurn Castle and Hamilton Military Museum
This year we will be visiting Sir Allen MacNab's homestead and grounds, along with the Hamilton Military Museum. More information about this event will be posted.
Wednesday, September 20, 2017:
Join us for our annual joint dinner meeting at South Gate Centre with the OGS. Brad Jansen will present a talk on local urban legends.  More information for this event will be posted as it becomes available.