Welcome to the Oxford Historical Society.
Throughout the year the Society presents free talks, usually historical in nature, on a variety of topics. The majority of these presentations are held on the last Wednesday of the month at 6:45pm at the Woodstock Museum, NHS. On this page you will see a listing of the newest presentations.  For a complete listing of upcoming talks and events please click on the Upcoming Events tab.
If you have a topic that you wish to present to the Oxford Historical Society (OxHS), please contact us at info@oxhsociety.ca
If you wish to volunteer or become a member of the OxHS please click on the following tabs: Volunteer or Membership.
Announcement: Director Wanted!

There is an opening for the position of Director on the Board of the Oxford Historical Society. If you are interested in becoming a Board member please contact the Society at info@oxhs.ca. The current Board will review all applications and will notify the chosen candidate. This is a great opportunity for someone who would like to learn more about the history of Woodstock and Oxford County and to gain valuable experience as a board member.
Special Announcement:
Please see the attached flyer in regards to the annual joint dinner meeting with the Ontario Genealogical Society, Woodstock Branch.
2016 Joint Annual Dinner meeting
Spirit of Christmas Home Tours on Saturday, November 26, 2016!
We have enough homes to hold the tour this year!
Volunteers will be needed on Saturday November 26, 2016 to staff the homes, either in the morning or in the afternoon, for shifts of approximately 3 hours. Each volunteer will be given a free ticket so they can tour the other homes.
Sign up sheets will be available at the joint dinner meeting with the OGS on Wednesday September 21, 2016. Or you can contact Kathie Richards by phoning 519-537-7743 or emailing kathie@bell.net.
This has been a fun and successful event in the past, because of all the volunteers, so be sure to help out this year if you are able.
Available for purchase: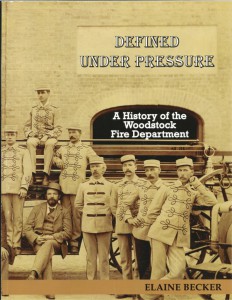 A new book by Dr. Elaine Becker, commemorating the 150th Anniversary of the Woodstock Fire Department. Defined Under Pressure is available for $15.00 (taxes included), at the  the Resource Centre of the Oxford Historical Society and at the Woodstock Museum NHS.