Welcome to the Oxford Historical Society.
Throughout the year the Society presents free talks, usually historical in nature, on a variety of topics. The majority of these presentations are held on the last Wednesday of the month at 6:45pm at the Woodstock Public Library. On this page you will see a listing of the newest presentations.  For a complete listing of upcoming talks and events please click on the Upcoming Events tab.
If you have a topic that you wish to present to the Oxford Historical Society (OxHS), please contact us at info@oxhsociety.ca
If you wish to volunteer or become a member of the OxHS please click on the following tabs: Volunteer or Membership.
Announcement:
The Vice President Board Member position is vacant. If yourself or someone you know would like to serve on the Oxford Historical Society Board in this capacity please contact the Society at info@oxhs.ca. This is a great opportunity for someone who would like to learn more about the history of Woodstock and Oxford County and to gain valuable experience as a board member.
Wednesday, May 25, 2016:
Kathie Richards speaking on "Ten Years that Changed America: the Civil Rights Movement from 1955 to 1965"
Saturday, June 18, 2016:
Grand Day Out – Goderich's museums and lunch
Please see the attached flyer for information concerning this event, thank you.
Special Announcement:
Please see the attached flyer in regards to the annual joint dinner meeting with the Ontario Genealogical Society, Woodstock Branch.
2016 Joint Annual Dinner meeting
Available for purchase: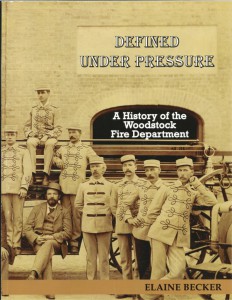 A new book by Dr. Elaine Becker, commemorating the 150th Anniversary of the Woodstock Fire Department. Defined Under Pressure is available for $15.00 (taxes included), at the  the Resource Centre of the Oxford Historical Society and at the Woodstock Museum NHS.