Welcome to the Oxford Historical Society.
Throughout the year the Society presents free talks, usually historical in nature, on a variety of topics. The majority of these presentations are held on the last Wednesday of the month at 6:45pm at the Woodstock Public Library. On this page you will see a listing of the newest presentations.  For a complete listing of upcoming talks and events please click on the Upcoming Events tab.
If you have a topic that you wish to present to the Oxford Historical Society (OxHS), please contact us at info@oxfordhistoricalsociety.ca
If you wish to volunteer or become a member of the OxHS please click on the following tabs: Volunteer or Membership.
Wednesday, February 24, 2016:

Liz Mayville will present "Pictures from Oxford County Archives", including new additions to the archives, such as photographs of the Woodstock Fairgrounds during WWII, when it was a Military Training Centre for mechanized transport.
Sunday, March 6, 2016:
Please visit the Oxford Historical Society booth at the Recreation and Leisure Fair from 1pm until 4pm. The event is held at the Cowan Park Sports Complex, 895 Ridgewood Dr., Woodstock, ON. Also, see all the other free-time activities available in and around Woodstock.
Wednesday, March 30, 2016:
Our topic for this evening will be "History of the Tuesday Reading Club", presented by their longest-term member Fran McElroy.
Available for purchase: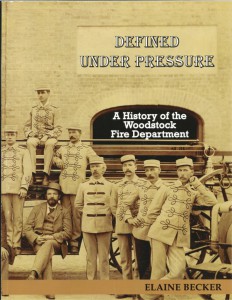 A new book by Dr. Elaine Becker, commemorating the 150th Anniversary of the Woodstock Fire Department. Defined Under Pressure is available for $15.00 (taxes included), at the  the Resource Centre of the Oxford Historical Society and at the Woodstock Museum NHS.